[New Theme] Smart Car Display & Automotive Electronics Pavilion
Date: 2018-01-04
News Type: Expo News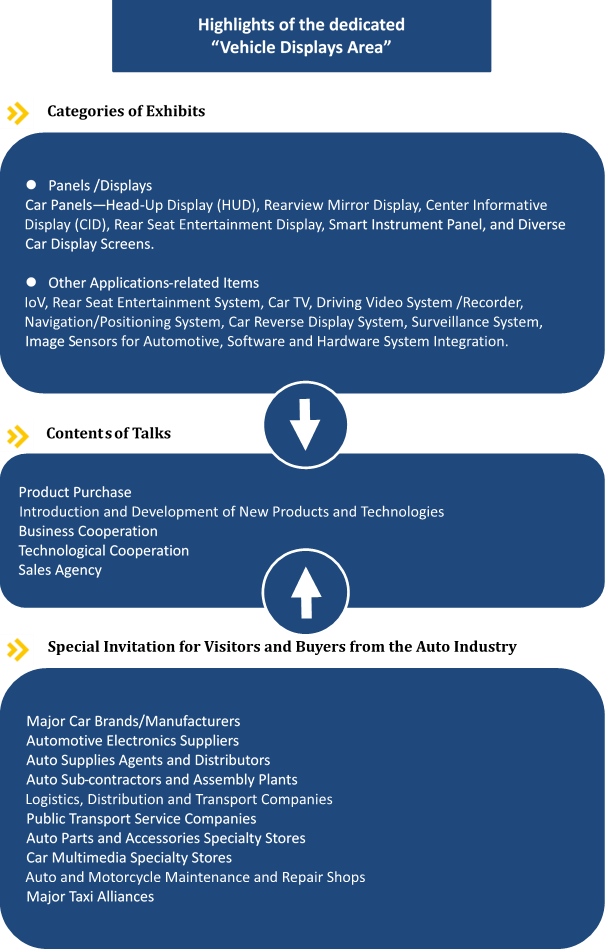 Display and touch technologies & products have been widely applied to industrial, commercial and electronics technology sectors, gradually becoming inseparable from our daily lives. In line with the development of the Internet of Vehicles (IoV) and autonomous cars, more real-time, more diverse and friendlier in-vehicle information systems have emerged to set future automotive telematics trends. In this regard, vehicle displays are playing a highly crucial part, effectively helping to spawn business opportunities for relevant peripheral industries.
Besides those fields associated with the display industry supply chains, such as optoelectronics, semiconductor, smart production, automation, robots, materials and components, machine vision, and electronics manufacturing equipment, new display technologies including vehicle displays are rising to steal the spotlight at the Touch Taiwan 2018 and become hot topics at seminars during the show period.
This year, particularly, show organizers have launch a dedicated "Vehicle Displays Area" to showcase connections among display and touch technologies, telematics, IoV, and cloud operations, thus integrating car panels, displays, software and hardware, as well as system designs and applications into one-stop professional presentations for show-goers. This is expected to become one of major highlights of the show, effectively helping innovative display applications to generate new business opportunities for the display industry.
Entering its seventh edition this year, Touch Taiwan (Display International), co-organized by Taiwan Display Union Association (TDUA) and Chan Chao International Co., Ltd., will run Aug. 29-31 on the 4th floor of Taipei Nangang Exhibition Hall in conjunction with "Smart Manufacturing & Monitech Taiwan" and Opto Taiwan, aiming to gather related smart production enterprises to jointly provide Taiwan's high-tech sectors with optimal solutions. It's expected that many prominent makers at home and abroad will be invited to showcase their most advanced display technologies and R&D achievements, in hopes of attracting buyers from various countries to patronize innovative display devices amid the shipment boom. Those engaged in all the related sectors are cordially welcome to join forces to make the show a great success.
More news