Registration Info.
Show Dates
Dates : April 24 (Wed.) - April 26 (Fri.), 2024
Times : 10:00AM - 5:00PM
Venue
Taipei Nangang Exhibition Center,Hall1,4F
Address : No1, Jingmao 2nd Rd., Nangang District, Taipei City, Taiwan Map
Exhibition Area
Organizer
Taiwan Display Union Association (TDUA)
Taiwan Panel & Solution Association (TPSA)
Taiwan Display Materials & Devices Association (TDMDA)
Taiwan Electronic Equipment Industry Association (TEEIA)
Society for Information Display (SID)
Chan Chao Int'l Co., Ltd.
Exhibition Fee
| Type of Booth | Price | Early-Bird Price | Member Price |
| --- | --- | --- | --- |
| Raw Space (9m2) | US$2,880 | US$2,520 | US$2,160 |
| Standard Booth (9m2) | US$3,240 | US$2,880 | US$2,520 |
| Pavilion Booth (9m2) | US$3,600 | US$3,240 | US$2,880 |
Early Bird Price is available before 31/08/2023.
Prices above are tax-included.
Members of TDUA, TPSA, TDMDA, TEEIA and SID can have the member price.
Standard Booth contains: 3 ×Partitions, 3×Spot lights, 1×110V socket, 1×Carpet (9 sqms),1 × Fascia, 1× Information Desk and chair.
Exhibitors could choose to tent raw space (choose the contractor by self) or standard booth with basic furniture (official contractor)
Power Electricity, 24hrs electricity, water supply of water pipe, air compressor and forklift will be charged additionally.
Remote Exhibiting Plan
An extra service for international exhibitors to exhibit their products both on-site & online during the global travel restriction.
What's included?
Laptop rental service for real-time meeting and matching.
A bilingual site staff arranged by organizer to help exhibitors showcasing their products/ technologies on-site and arranging online meeting with visitors.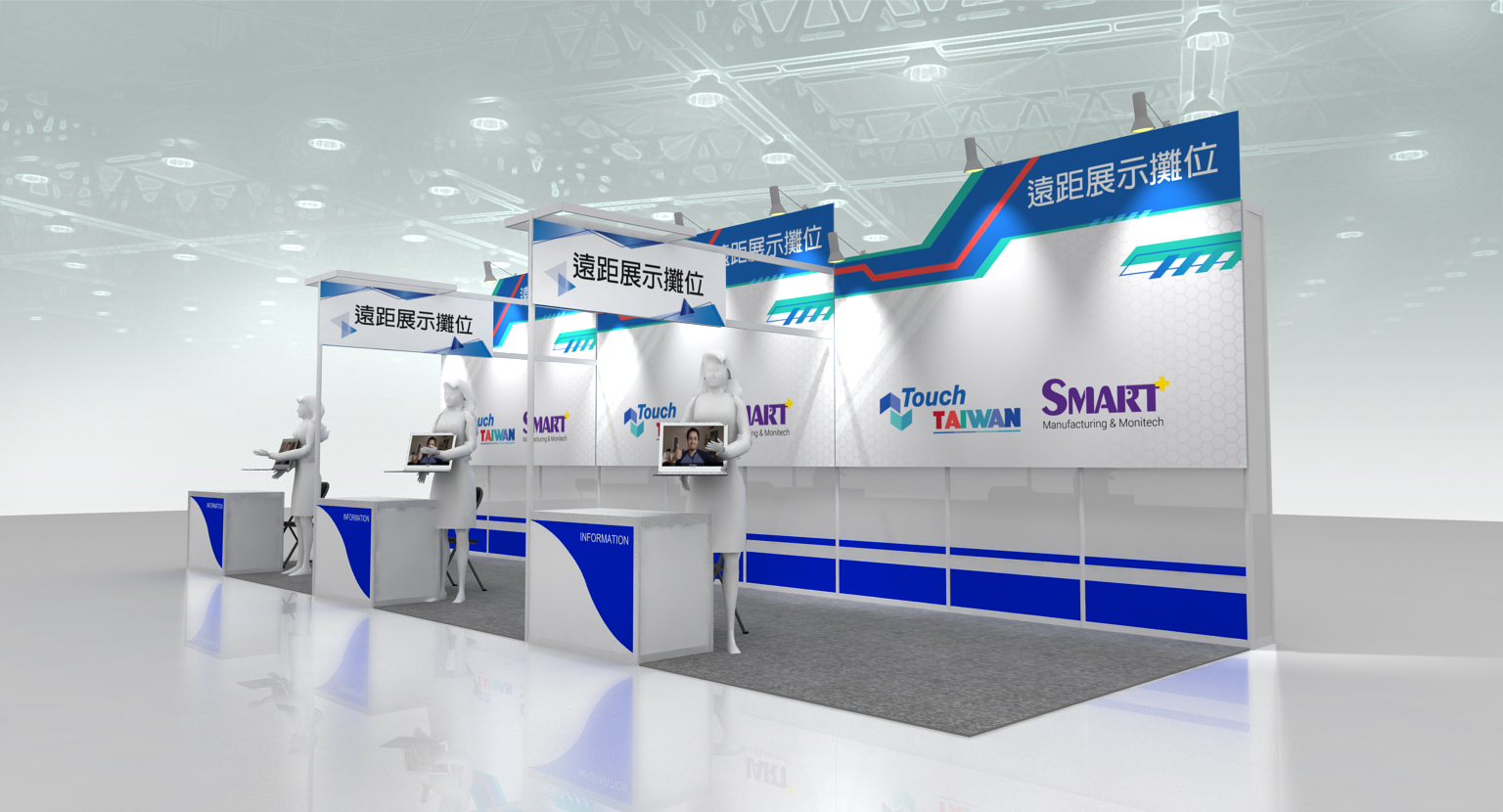 Register Procedure
With the application form and the signature of company and the person in charge, mail or fax to:
TDUA / TEEIA
Ms. Doris Lin #12 / Ms. Peggie Hsiao #24
Tel: 886-2-2729-3933
Fax: 886-2-2729-3950
Email: show@teeia.org.tw
Chan Chao International Co., Ltd.
Mr. Lee #135 / Ms. Lin #192
Tel: 886-2-2659-6000
Fax: 886-2-2659-7000
Email: touch@chanchao.com.tw
Marketing Plan
1. News and Magazines:
Spread information and advertisements to domestic dominant news such as Economic Daily, Business News, leading news and related professional magazines.
2. Invitation Card:
100,000 invitation cards will be printed and be sent by Chan Chao Company, collocated institutions and media, exhibitors to make mass spread to visitors.
3. Internet:
(a) Set up specific pages on official website, which contain information of company and producing products.
(b) Design EDM and potential buyer's database as well to invite related industries by E-mail.
4. Overseas Promotion:
(a) Spread out the information of the exhibition to related overseas exhibitions and industrial expos organized by Chan Chao. (b) Invite the foreign buyers through the foreign agents of the organizer. (c) Invite worldwide buyers through the assistance of organizer worldwide and the trade offices in Taiwan.
5. Institution Invitation:
Invite the chief of the government and related industrial group, R&D institutions to improve the image of the exhibition.
6. Buyer's Guide and Compact Disk:
Release Buyer's Guide and compact disk and give free to the member of domestic related institution, industries and the visitors.
Booth Allocation and Registration
During closing of application or when all booths are filled, the preparation office of the organizer will divide the areas uniformly based on product category. During the exhibitors meeting, exhibitors will select the location of their booth based on its product area. (Booth selection shall not be across the aisle).
Booth Allocation Order as follows:
(1) Number of booths.
(2) The winner of the e-Touch award.
(3) The total number of booths within 3 years. (2024+2023+2022)
(4) Application date.
(5) If the priority can not be decided among all cases above, it will be based on the result of draw lots onsite.
The organizer has the right to select booth location for exhibitors who is absent during exhibitors meeting.
The organizer has the right to change the layout of the exhibition area, depends on exhibit situation and demand.
To keep the safety of the floor construction, the organizer has the right to assign the location of the displayed product.
Several exhibitors cannot join together to register and select booth.
Withdrawal from the Exhibition
Once the booth fee for the exhibition is paid, it will not be refunded and will be used for payment of promotional expense for this exhibition.
Booth rented by the participating company cannot be transferred in private or utilized by company with name other than the company name during application (including name of sponsoring company). If there is violation, the organizer will immediately take back the transferred booth and will prohibit the company who did not apply to exhibit to continue to exhibit. The transferor will be prohibited to participate in any trade promotion activity conducted in the country by the organizer within two years.
Displayed products must be related to the theme of this exhibition, or it will be prohibited.