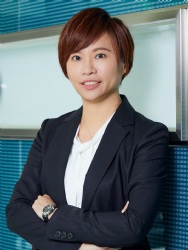 Lin Yu Jie
Senior Manager
AU Optronics Corporation
Topic
New-generation display technology innovation and cross-domain applications
Speaker Profile
Jennifer Lin received her M.S. degree in Physics from National Central
University.
She joined AU Optronics Corporation since1998 and held various roles in
Process Integration, Product Design, Product Marketing and Strategic Planning.
Jennifer has complete experience on manufacturing, product development and
marketing strategy for display industry.
She is currently Senior Associate Vice President of Advanced Technology
Research Center, responsible to develop technology for company future growth.
Outline
In the 5G era, powerful artificial intelligence and computing capabilities can be matched with high-bandwidth and low-latency communications to speed up developing a new lifestlye for the AIoT Intelligent Internet of Things. Among them, the most important human-machine interface is the ubiquitous displays.
Many new cross-domain applications are also developed to facilitate the delivery of better information services.